Jewelry Engraving
Personalize It • Customize It • Put A Name On It
Personalize It. Customize It. Put A Name On It.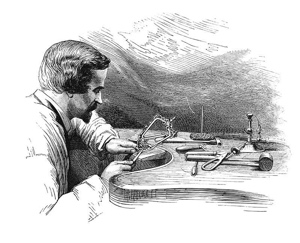 Jewelry Engraving
When words fail, jewelry speaks volumes, especially when it's adorned with a personal message from the giver to the wearer.
One of the most sentimental ways to personalize your new purchase is with custom jewelry engraving.
Picture gifting your loved one that stunning diamond ring they have been eyeing for months. It's already a significant piece by itself, but you also decide to include a heartfelt message inscribed on the band. You want to show how much you genuinely care for them, and jewelry engraving provides you with the platform to do so. You already know they'll be happy when they open the gift, but now, they will be entirely over the moon when they see the extra love etched onto the band.
If this is the storyline you envision for your loved one's anniversary, holiday, birthday, or even just-because, our expert jewelry engravers will help you make this vision a reality.
Our engraving specialists can add your heartfelt message in several different fonts and styles. We're here to help bring your custom design to life and offer an experience like no other to your loved one. Simply tell us your vision, bring a sketch, or just give us a general idea of what you would like your engraving to be, and we will help you find the perfect way to say, "I love you" with an engraved jewelry piece.
Engraving doesn't just have to be for the one you love - it can also be for your business, your friends, and even a nice treat for yourself.
When it comes to corporate gifts, we can engrave your company name and logo on gold, platinum, silver, stainless steel or even brass. We can engrave that piece you plan on gifting to your best friend, or we can engrave that Game of Thrones-inspired sword (yes, a sword!) that you just can't live without.
When the gift is unique and the moment is special, adding a message in your own words is the perfect touch. You'll be impressed with our cutting-edge technology and quick turnaround times.
Give us a call today or stop in to discuss the perfect personalization of your next purchase.
---
Thank you for your submission. One of our experienced team members will be in touch with you shortly.
---