Repairs
Cleaning & Polishing • Ring Resizing • Restoration
MJ Christensen Diamonds offers jewelry repair for major and minor issues, restoring your jewelry to like new again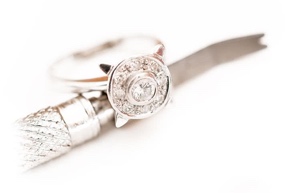 Just because your jewelry has a broken clasp, missing stone, broken chain link, dent or scratch doesn't mean you have to throw it away. If you have insurance on your jewelry, this service can often be covered.
Bring in your jewelry so we can evaluate it and give you an estimate for any repairs that may need to be done. We can even have it repaired within a few days. We have experience in reworking jewelry for a new purpose such as putting a bracelet charm on a necklace or shortening a necklace to fit your wrist.
Our shop is equipped with the latest technology so every repair will be expertly done to our meticulous standards. Do you know the difference between torch and laser repairs? Well we do and would love to explain the process to you.
Among the services we provide are the following:
Ring sizing
Jewelry cleaning and polishing
Ring shank replacement
Stone tightening
Stone replacement
Prong tightening and retipping
Soldering
Chain shortening or lengthening
Chain repairs & clasp replacement
Rhodium plating
Come in for a free estimate today!
---
Thank you for your submission. One of our experienced team members will be in touch with you shortly.
---